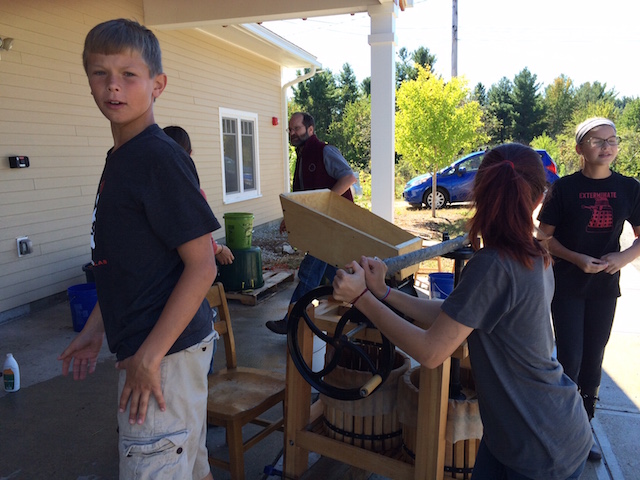 You have seen the Upper School students in orange vests with bright, smiling faces outside of our school selling cider these past few weeks. Have you wondered why? It is part of the work Montessori found most meaningful for adolescents. She believed that this is the time for these nascent adults to begin to join the society of adults, namely its economic life. It is the time for them to contribute their efforts and to receive compensation (in our case, the building up of a travel fund) in return. This "Micro-economy" work need not center upon apples. We may well sell jars of honey, chocolates, or candles as the year progresses. We chose cider because Hollis has long produced excellent apples and our property is an old orchard, where we tend and harvest our own apples. And apples are a celebration of the sunlight now fading. They are a sweet conclusion, a symbol of life, and a suitable gift to offer you.
What is required of Micro-economy work is that it engages both the hand and the mind. These students have new, growing bodies that need to be strengthened and challenged. They need, as well, to be called to reason, to communicate, to make decisions, and to evaluate the results of those decisions. Their business name "Sunny Orchard" is such a nice, simple thing but it represents hours of discussion. This decision, however, was far easier that determining the price of a half-gallon of cider or choosing whether to offer pasteurized or unpasteurized cider. They have needed to think ahead, to think on their feet, to plan for contingencies, to compromise, to work when they were worn through.
They have needed to research regulations and processes, to talk to strangers, to write checks and keep accounts. They have worked in the rain; they have stood their ground when faced with yellow jackets and maggots. They have learned to persevere, an essential quality to a successful life as an adult. And by standing through these tests and by producing through their own efforts a lovely drink that the community wants to buy they have grown in confidence; in themselves and each other.
Academics have not been set aside. Problems with pasteurization and fermentation lead to chemistry and microbiology lessons. Contact with wasps lead to discussion and the key differences in form and function between wasps and bees. Articles and advertisements need to be written well. Conversion of units of measure, ratio and proportion, pi, and compounding interest have been required in order to achieve success. It has been real to the students. This has led to their complete engagement in the process. Engagement is the first requirement of learning.
-Jim Webster